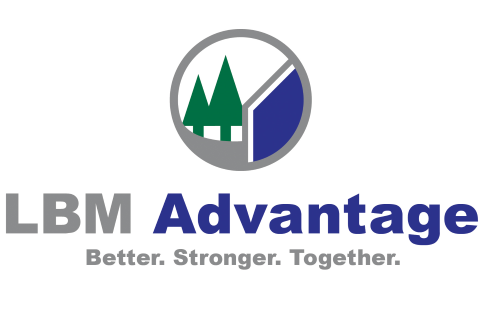 LBM Advantage

Company Description
We are one of the country's largest and most experienced, wholly member-owned buying cooperatives for the lumber and building materials industry. With over 500 premier independent lumberyards and over 1300 locations in 46 states, our mission is to create a competitive advantage for our members by leveraging their collective power. We also proudly offer our members:
Flexibility – Multi-billion dollar purchasing power to assist in a competitive market, less restrictions, and personalized service.
Experience – Widespread industry knowledge and a passion for member success.
Transparency – Honest communication that builds trust, creates solutions, and accomplishes goals.
LBM Advantage has office locations in New Windsor, NY, Grand Rapids, MI, Smithfield, NC, and Conroe, TX
Categories
Aluminum and Aluminum Products

Aluminum and Aluminum Products

Bathroom

Bathroom Accessories
Bathroom Fixtures
Baths, Whirlpools
Bathtub Enclosures & Surrounds
Bathtubs & Showers, Acrylic
Bathtubs & Showers, Fiberglass
Shower Bases and Enclosures
Shower Bases, Custom
Stone Panels, Composite
Toilet Partitions
Toilets, Ceramic
Whirlpool Baths, Acrylic
Whirlpool Baths, Marble

Blocks / Brick

Acrylic Blocks
Brick
Brick Mold, PVC
Glass Blocks
Stone Panels, Composite
Vinyl Mounting Blocks

Ceiling

Ceiling Accessories
Ceiling Panels
Ceiling Panels, Luminous
Ceiling Tile
Ceiling, Suspended
Textures, Ceiling, Spray

Cement

Cement
Cement Block
Cement Products

Concrete

Admixtures, Concrete
Bonding Agents, Concrete, Plaster
Bumper Blocks, Car Stops, Concrete
Cleaners and Coatings, Concrete and Masonry
Coatings, Concrete, Permanent
Concrete
Concrete Block
Concrete Bonding Agents and Additives
Concrete Dry, Premixed
Concrete Forms
Concrete Products
Concrete, Fast Setting
Pavers, Concrete
Premixed Concrete & Painting Supplies
Rebar
Waterproofing, Masonry, Concrete

Connectors / Wiring

Connectors, Metal
Connectors, Timber
Netting, Wire
Tie, Wire
Ties, Wall
Twine
Wire Splicers
Wire, Barbed
Wire, Mesh, Welded for Reinforcing

Dealers

Decking

Alaskan Yellow Cedar Decking
Composite Decking & Railing
Deck Kits
Deck Screws
Decking
Decking Products
Decking Tool
Fence & Deck Products
Hardwood Decking
Preserved Wood Decking
PVC Decking
Vinyl Decking
Wood - Alternative Decking & Railing
Wood Decking
WR Cedar Decking

Doors

Café Doors
Custom Stile & Rail Doors
Door & Window Racks
Door Bottoms
Door Canopies
Door Closers
Door Frames
Door Light Inserts
Door Operators, Garage, Electric
Door Units - Prehung
Doors
Doors - Exterior
Doors - Interior
Doors - Steel
Doors, Garage
Entrances, Doors, Steel
Jambs
Louvered Doors
Patio Doors
Pocket Door Frame Sets
Shear Brace-ISB
Thresholds
Thresholds, Metal, Plastic
Thresholds, Treads, Risers, Wood
Tracks, Sliding & Folding Door, Residential
Tracks, Sliding Door, Garage, Barn
Trusses
Weatherstrip, Garage Door

Fences / Railing

Ball Tops and Post Caps
Balusters
Fences & Posts
Fences and Gates, Lawn and Ornamental
Fencing
Gate Operators
Gates, Farm & Lawn
Pole Building Packages
Pole Building Trim Products
Post Anchors
Posts, Fence, Steel
Posts, Turned
Railings
Stone Panels, Composite
Treated Fence & Deck Products

Flooring

Flooring
Flooring, Underlayment
Southern Yellow Pine
Warrantied Subfloor Panels

Garage

Garage Door Headers
Garage Door Openers
Garage Door Repair Parts
Garage Door Weatherstrip
Garage Door, Jamb Seal
Garage Doors

Hardware, Fasteners & Accessories

Adhesives
Anchors
Brackets, Deck, Metal
Brackets, Shelf
Builders Hardware
Clips
Closure Strips
Edge Glued Products
Fasteners/Fastening Systems
Film, Plastic
Film, Polyethylene
Finger Jointed Studs & Dimension
Glues
Guns, Glue
Hangers
Hardware
Hardware, Cabinet
Hardware, Distributor-Dir. Groups
Hardware, Door, Sliding, Folding
Hardware, Garage Door
Hardware, Locks, Door
Hardware, Sliding Door
Railroad Ties
Screws
Screws, Metal, Drywall
Screws, Post Frame and Steel Frame
Screws, Stainless Steel
Screws, Wood
Staplers & Staples
Staplers, Sheathing, Shingles
Studs - Wood
Tackers & Staplers
Tape, Duct
Tape, Masking
Tape, Wallboard Joint
Ties
Wire

Insulation

Housewrap
Insulation
Insulation Blowing Machine Repair
Insulation Blowing Machines & Accessories
Insulation Board
Insulation Supports
Radiant Barriers

Kitchen

Cabinet
Cabinet Tops, Post Formed
Countertops
Granite Tops, Kitchen and Vanity
Kitchen Cabinet
Kitchen Cabinet Accessories
Marble Tops, Kitchen & Vanity
Stone Panels, Composite

Lumber

Custom Lumber Cuts
Dimension Lumber
Engineered Lumber
Fire Retardant Treated Lumber and Plywood
Fire Treated Lumber & Plywood
Hardwood Lumber
Heat Treated Lumber
Long Length Dimension Lumber
Lumber
Lumber - Hardwood
Lumber - Softwood
Lumber Drying
Lumber Storage Racks
Lumber Traders
Lumber Yards
LVL
Paralled Strand Lumber - PSL
Platforms, Lumber
Preservative Treated Lumber and Plywood
Pressure Treated Lumber and Plywood
Rollers, Lumber
Round Lumber
Spruce KD Lumber
Trailers, Lumber
Treated Lumber
Treated Lumber & Plywood
Truss Lumber
Water Repellent Treated Lumber

Machinery

Air Compressors, Portable and Stationary
Air Infiltration Barriers
Attachment, Forklifts
Cantilever Racks
Compressors
Engines
Forklifts & Forklift Service
Freight Hauling
Generators
Golf Carts
Handling
Log Splitters
Machinery, Industrial Woodworking
Machinery, Truck Mounted Material Handling, Loader / Unloader
Materials Handling Equipments/Systems
Pressure Washers
Racks
Reloads
Saw Blades
Saw, Components
Sawhorses
Saws, Miter
Saws, Plywood
Transloads
Truck Mounted Cranes & Forklifts
Water Transfer Pumps

Metal

Breaks, Metal
Buildings, Metal
Flashing, Metal
Lath, Metal
Metal Fabrication, Custom
Metal Roof, Wall, and Siding Systems

Molding / Trim

Cove Base
Molding / Trim
Trim

Nails

Anchor Nails and Bolts
Finish Nails, Staples
Nail Bags
Nailers, Framing
Nailers, Tackers, Staplers
Nails

Outdoors

Agricultural Products
Awnings, Canopies and Umbrellas
Cooking
Danger Flags
Dog Kennels, Portable & Non-Portable
Exterior Finishing Systems
Exterior Wood Shutters
Flagpoles, Hardware & Brackets
Furniture, Patio and Deck
Gypsum, Lawn & Garden
Hydraulic / Pneumatic Hose & Fittings
Kits, Gazebo
Kits, Shed
Landscape Material
Landscape Material, Pressure Treated
Landscape Stone
Landscape Timbers
Lawn & Garden
Lime
Lime, Athletic Field Marker
Mail Boxes
Mulches
Patio Covers, Aluminum
Patio Enclosures
Patio Stones, Concrete
Rock, Decorative
Screen Room Enclosures
Snow Guards
Stone Panels, Composite
Treating Plants

Paint

Additives for Concrete / Wood Decking
Paint
Paint & Sundry Related Items
Paint Removers

Plumbing

Professional Services

Buying Co-Op
Wholesale Services, Building Materials

Redwood

Redwood
Redwood Clears
Redwood Decking
Redwood Garden Products
Redwood Siding
Redwood Ties
Redwood Timber
Redwood/Cedar

Sealants

Caulking Compounds
Fillers, Crack & Joint
Grout
Mortar, Dry, Premixed
Plaster, Patching
Sealants, Silicone
Sealants, Urethane Foam
Sealers, Concrete
Spackling Compounds
Topping Mix

Siding / Roofing

Asphalt Roofing
Back Siding
Building Panels
Coatings, Metal, Protective for Siding and Roofing
Custom Siding Patterns
Felt Roofing
Finger Joint Primed Siding
Gable Vents
Gravel Stops, Painted, Galvanized Steel
Hangers, Joist, Eave & Timber
Housewrap
Jack Posts, FHA Adjustable Steel Columns
Log Cabin Siding, Western Red Cedar
Log Siding
Reflective Insulation
Ridge Roll, Roof
Roof Coatings
Roof Deck Insulation
Roof Deck, Western Red Cedar
Roof Deck, Wood
Roof Edge, Metal
Roof Valley, Metal
Roof Wash
Roof, Metal, Sheet Waterproofing Underlayment- Ice and Water
Roofing Materials
Shakes / Shingles
Shingles
Siding
Siding Products
Soffit & Fascia
Soffit Vents
Stucco, Exterior
Western Red Cedar Siding

Stairs

Stair Tread
Stair Work
Stairs
Stairways, Disappearing

Steel

Pre-Engineered Steel Buildings
Steel Producer
Concrete Reinforcing
Steel Sheets, Flat, Painted or Galvanized
Steel Strapping

Storage and Organization

Closet Lining, Cedar or Cedarized
Closet Organizers and Accessories
Cylinder Handling & Storage Equip.
Ironing Center
Racks, Custom
Racks, Warehouse Storage
Shed
Shelving
Storage
Utility Carts
Tags and Labels

Systems

Timber

Clear DF Timber
Douglas Fir Timbers
Round Timber Pilings
Timber
Timbers & Planks
Western Red Cedar Timbers
WR Cedar Timber

Tools

Abrasives
Arches
Architectural Products
Blackboard, Gypsum
Brooms and Brushes
Carpenters' Pencils
Drill Bits
Expansion Joints
Flashlights
Flexible Extension Jambs
Gloves, Work
Grade Stakes
Grid System
Hammers, Roofing Staple
Hammers, Staple
Hydraulic / Pneumatic Seals, O-Rings & Packings
I-Joist
Industrial Sanders
Knives
Ladders
Levels
Masonry Supplies
Material Handling Equipment
Paper, Red Rosin
Pipe Flashing
Repair Parts, Lumber Roller
Sand
Sand Blast Equipment and Parts
Sharpeners
Sheets, Marble
Sheets, Metal
Strapping, Steel & Plastic
Stud Steel
Stud Wood
Tool Belts / Pouches
Tool, Fastening, Power Actuated
Tools
Tools, Hand
Tools, Pneumatic
Tools, Power, Portable
Tools, Power, Stationary
Tools, Stationary
Tools, Strapping
Water Repellent
Waterproofing, Liquid
Weatherstrip
Wheelbarrows
Work Platforms, Elevating & Mobile
Yard Pallets and Racks
Yard Ramps

Trucks / Trailers and Supplies

Truss

Truss Clips and Connectors
Truss Making Equipment
Truss Related Products
Trusses, Wood, Floor & Roof
Trusses, Wood, Rafters, & Arches

Walls

Area Walls
Backer Boards
Corner Bead, Drywall
Drywall
Drywall Compounds and Tools
Drywall Screws
Lattice
Plasterboard
Stone Panels, Composite
Wall Jacks
Wall Panels
Wallboard, Fiber, Fiber-Cement
Wallboard, Gypsum

Wholesale Distribution

FRP Panels / Molding
Hardwood Plywood— Import / Domestic
Landscape Ties
Lattice Panels— Wood / Plastic
OSB
Particle Board / MDF / Hardboard
Softwood Lumber
Softwood Plywood
Tyvek House Wrap
Wholesaler

Window

Wood

Wood Products
Pulp & Paper Products
ACQ
Acza (Chemote Treated Products)
AWI Quality Certified Architectual Millwork
Backer Board
BBOES - Plyform
Beams & Timbers
Beams, Laminated Wood
Boards
Boat Docks
Borate Treated Products
Bridging
CCA Treated Products
Cedar
Cedar Brackets Cut to Pattern
Clear DF Boards
Columns
Concrete Forming
Copper Azole Treated Products
Corbels & Knee Braces
Creosote
Custom Milling
Custom Planing
D-Blaze
Douglas Fir (Clear)
Douglas Fir Finish
Douglas Fir Long Length Dimension
Dowels, Wood
Dricon Fire Retardant
Engineered Wood Products
Finishers, Wood, Exterior
Firewood
FSC Certified Stocking Dealer
Furring
Glu Lam Beams
Hardboard
Hardwoods
Job Site Fill-In Deliveries
Lath, Wood
Lattice Panels — Wood
Lodge Pole Pine
Logs
Long Dimension
Mantels, Wood
MDO Industrial
Millwork
Oriented Strand Board Products
Oversized Structural Panels
Pallet Supplies
Paneling
Particle Board
Pegboard and Hooks / Accessories
Penta, A Wood Preservative
Pine Boards and Pattern
Plyform MDO HDO
Plywood
Plywood - Sanded
Plywood - Sheathing
Plywood Traders
Poles
Pond Pine
Preservatives, Wood
Sanded DF Panel
Sawmill
Scaffolding, Wood
SFI
Specialty Softwoods
Spindles
Stain, Wood
Structural Wood Engineering
Survey Stakes
Textured Siding
Treated Poles & Rounds
Trusses, Wood, Floor & Roof
Veneer Hardwood
Waferboard
White Fir
Wood
Wood Paste, Filter
Wood Tape, Decorative
Wood Treating
WR Cedar Clears
To Top